Jumping on a bounce house is healthy and fun. Jump on it! If you want serious health benefits hidden in a super fun, bouncy workout, jump on the moon bounce. 
Greatly lifts your mood.
Jumping on a bounce house is incredible for your mental health! Research shows that regular jumping exercises can be more effective in relieving stress, anxiety, and depression. Additionally, when you jump, your brain is flooded with
feel-good hormones, making you feel good and motivated.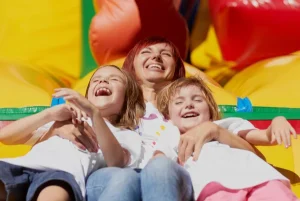 Help you avoid chronic disease and boost your immune system.
Jumping like a ninja on a bounce house or trampoline can help you avoid chronic disease and boost your immune system!
Activities like this can help boost your immune system so you can fight off disease like a superhero. It may also reduce the risk of lung disease and cancer. In short, it's like a magic pill – if it came in a bottle, it would be the best medicine in the world!
Get ready to tackle your to-do list like a boss!
 If you're feeling the office blues, bouncy workouts might be just what the doctor ordered. Not only does it reduce those nasty stress hormones, but it also boosts a sense of well-being through those feel-good endorphins. It's also the perfect antidote for when you're having trouble concentrating. That's why renting a large-themed bounce house is a great option for indoor or outdoor team building or team motivation activities.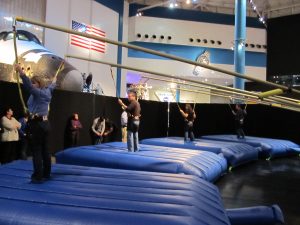 You have more time to enjoy life! 
Do you want to live long and be healthy? Laughter is the secret! If you laugh regularly and enjoy that type of activity, you can reduce your risk of premature derailment by 21%. And the more you move, the more you bounce, the lower the risk is! Let's laugh, jump and add more happy and healthy years to our lives!