Mechanical Games will be the ultimate choice for entertainment in 2024
Mechanical Games Available at Moon Bounce Galaxy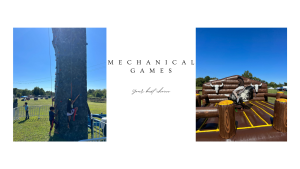 Mechanical games offer unparalleled amusement and enjoyment. With their advanced mechanics and innovative features, they captivate the audience and provide an immersive experience. Mechanical Games stand out as the top source of entertainment, surpassing all other options available. Their popularity continues to surge, and their impact on the entertainment industry is unmatched. Recently, Mechanical Games emerge as the go-to choice for entertainment enthusiasts seeking thrilling experiences.
One of the most popular mechanical games is the Extreme Air Jumper.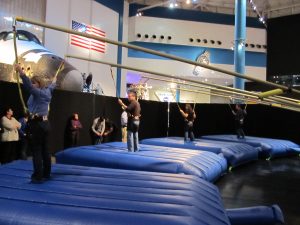 It offers an adrenaline-pumping experience that will leave guests exhilarated. It is an exhilarating experience that offers thrill-seekers a unique opportunity to test their limits. This extreme mechanical game involves being lifted to great heights before freefalling towards the ground, all while attached to bungee cords. The setup of
Extreme Air Jumper
typically takes place at a designated location, such as a fair or carnival. The setup involves attaching bungee cords to a crane or tower, which is used to lift participants to a height of up to 100 feet. Once participants are strapped into a harness, the bungee cords are released, allowing them to freefall towards the ground. This setup ensures that participants experience a thrilling and safe jump. As participants are harnessed and attached to two flexible fiberglass poles, specifically designed for this jumping system, they can soar up to an impressive 25 feet in the air. The central hydraulic system, operated by an attendant, gradually lifts each rider individually until they reach the desired height for an amazing jump. This thrilling activity is commonly referred to as Euro Bungee or Monkey Motion, but regardless of the name, it guarantees extreme fun for all participants. The impressive height and acrobatics of
Extreme Air
will undoubtedly draw attention and excitement from everyone in the vicinity.
The crowd favorite Mechanical Bull is another type of mechanical games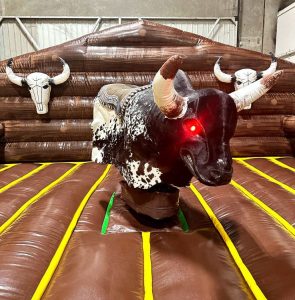 Mechanical bulls
have become a popular attraction in entertainment venues around the world. These machines simulate the experience of riding a bucking bull, providing thrill-seekers with a challenging and exciting experience. A
mechanical bull
is a machine that mimics the movements of a live bull. It typically consists of a metal frame with a padded body, which is covered with synthetic fur to resemble the appearance of a real bull. The size and dimensions of a
mechanical bull
can vary, but they are usually around 16 feet long and 8 feet wide. The materials used in construction include steel, foam, and vinyl. The machine is powered by a motor that controls the movement of the bull, while a control panel allows the operator to adjust the speed and intensity of the ride. Safety mechanisms such as an automatic shut-off switch and a padded landing area are also included to prevent injuries. The
Mechanical Bull
  is sure to captivate and entertain. Don't be fooled into thinking that the mechanical butt is only suitable for country and western hoedowns. This attraction is a hit at any event. An attendant is also provided to ensure the safety and smooth operation of the
Mechanical Bull
.
Rock Climbing Wall is another exciting mechanical game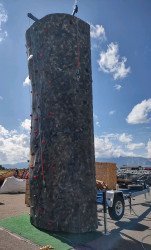 For those seeking a different kind of challenge, the
Rock Climbing Wall
stands tall at an impressive 24 feet. This wall is designed to provide competitive and fun climbing experiences for all participants. With an auto-belay system in place, climbers can enjoy the thrill of scaling the wall without the need for a partner. Th
Rock Climbing Wall
offers a variety of routes and difficulty levels, catering to climbers of all skill levels. Whether you're a beginner looking to conquer your fear of heights or an experienced climber seeking a new challenge, this attraction is guaranteed to provide an exhilarating experience. In conclusion, the Extreme Air Jumper,  the
Mechanical Bull
and the
Rock Climbing Wall
offer a range of exciting activities for guests to enjoy.  These mechanical games are sure to create unforgettable memories for all participants. So, whether you're seeking extreme air fun, a taste of American pride, or a thrilling climbing adventure, these attractions are perfect additions to your event.